What is the Benefit of Utilizing the TRIOS 3D Intraoral Scanner?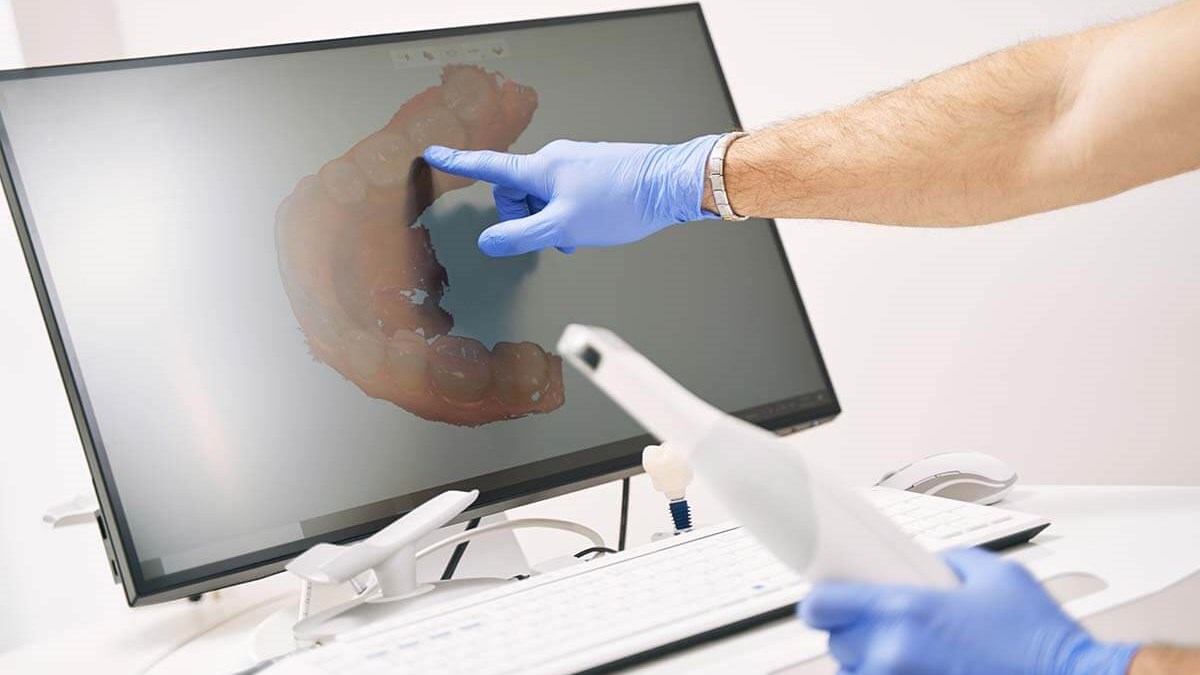 After decades of conventional impression methods, dentists now have access to digital tools that provide 3D imaging of a patient's teeth and soft tissue. Handheld dental tools, such as the TRIOS 3D Intraoral Scanner, help to capture optical impressions without all the hassle of conventional methods. The scanner provides 3D, full-color images without any risk of radiation.  
SmilesNY believes in staying on the cusp of the latest technology, especially when it allows our dentists to serve patients more effectively. Adopting technology that allows for better restorative results equals happier patients. Utilizing the TRIOS scanner provides an array of benefits, such as those mentioned below. 
Increased Patient Comfort 
Instead of using a physical mold to create a patient's impressions, the TRIOS 3D scanner makes the process easy and comfortable. Instead of waiting up to 15 minutes for a traditional impression, the scanner completes the process in a fraction of the time. No more messy impressions with a goopy putty. The wireless process makes dental impressions easier than ever.
Real-Time Communication 
For many patients, communication is paramount to how they feel when they walk out of the dental office. The TRIOS scanner allows for real-time scans to be viewed in the office, which allows the dentist to walk their patient through the condition of their teeth and discuss treatment with concrete examples on the screen in front of them. Visual learners especially benefit from this technology, as it can make sometimes complicated explanations much easier to digest. 
High-Quality Impressions = Better Restorations  
After extensive usage and testing, the TRIOS dental scanner is more accurate when compared to traditional methods. The resulting images are clear, easy to view, and have impressive definition. The scanner can even measure teeth and provide immediate feedback to the dentist on their size and shape. Quality impressions lead to snug fits, which result in fewer adjustments and appointments. 
Versatile Usage  
While the TRIOS is commonly used to create impressions that can then be used to create well-fitting aligners, the scanner can also produce surgical guides, create mock-ups, and even track gingival changes over the years. A few of the procedures that benefit from the TRIOS 3D scanner include tray aligners, dental crowns, All-on-4, veneers, and even sleep apnea and TMJ treatments.
Experience Convenient, High-Tech Dental Care at SmilesNY 
SmilesNY  in Manhattan, NY is committed to excellent patient care and through the utilization of technology such as the TRIOS 3D Intraoral Scanner, we can provide patients with accurate impressions without the hassle. Dr. Timothy Chase and Dr. Steven Roth are dedicated to providing comprehensive patient care, ranging from cosmetic, restorative, and preventive treatments. Our facility is located in the heart of NYC, where we embrace cutting-edge techniques and technology that leave our patients with happier and healthier smiles.