Care to Share Program
At SmilesNY, our overall purpose is to elevate our patients' dental health to reduce the amount of dentistry you will need in the future and help your teeth last a lifetime. To accomplish this, Dr. Roth and Dr. Chase have launched a community service program to educate our patients, their families, and their friends to reduce their dentistry for a lifetime and help them obtain optimal oral health. We call this our "Care to Share Program". With our Care to Share Cards, our office donates $400 to each new patient to begin their education.
Ask us today about how you can help your friends and family achieve the goal of wellness!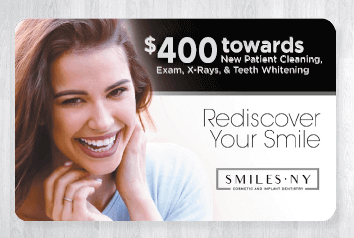 *$400 is applied only when new patient has comprehensive exam, x-rays, and dental hygiene appointment.
*New patients only. Limit one per patient. Not valid with any other offer or for prior service. No cash value. Cleaning is regular cleaning and in the absence of periodontal disease. Teeth whitening is a kit.